Wrightsville Beach Condos for Sale NC Oceanfronts
Listings at the bottom!
If you read through this page you'll see the evolution of the market and prices and rental rates for vacation rental income.  The latest and the greatest is that the prices went crazy high past 2 years of 2021-2022. I rang the bell selling a Shell Island Resort unit for listing price of $550,000 and closing for $505,000 a year ago.  Then some sold in the 575K range but I illuminated the market you might say.  So now condos in WB are grossing $30,000/room but the home prices far outstripped that coveted 10% gross rental income in relation to the sales price, so the island is not investor friendly in that regard….
Wow. Here's an update for you.  Shell Island resort condos bumped to $335,000 in the Fall and Winter.  I'm letting you know those are already "old" comps.  I think they are worth $365,000 now as of March 2021.  And surf suites at the other end of the island have bumped up to 400,000 on the top 2 floors….
In the coming months a bunch of information and market data on the Wrightsville Beach condo market is going to be made available to you. There will be graphs and charts of the market trends giving you an excellent feel for what you are looking at in terms of buying a condo in the area. Wrightsville Beach is the bomb.  It has very deep or wide beaches and often clear water and tidal pools for the littles to play in.  It's "downtown" has a number of restaurants and shops to frequent not the least of which is Kohl's Frozen Custard 🙂
Misleading real estate stats for oceanfront condos
So it is very easy to misinterpret real estate statistics in any market–especially within small areas or niches or types of real estates such as ocean view condos on one beach?  Can you say niche? Seriously.  This chart makes it look like condo values went up $100,000 within a few months but that is not the case.
When you take into account resales of Wrightsville Beach oceanfront condos that are the same age in terms of the year built it is much more accurate look at the market. And you can take it more specific than that to get very accurate assessment. Use only 2 bedroom units compared to 2 bedroom units that are built in same decade in Wrightsville Beach so that the high priced new construction homes don't mislead you.
Conclusion 15% Appreciation 2017-2019 Wrightsville Beach condos
Conclusion is that your typical condo appreciated 15% from 2017-2019.  But you have to keep in mind that it's all case by base.  The 2 most interesting scenarios are that the lower floors in Shell Island Resort went from $240,000 up to $300,000 in market value. I sold about 8 of them so my finger is on the pulse of the market for sure.  The Surf Suites have also skyrocketed since they were converted into new construction after Hurricane Florence.  For the most part these are not ideal vacation rental investment properties as the number of bedrooms you get for the price of the home are too few to bring in a legit amount of rental income. For example if you buy a 3BR oceanfront condo in North Carolina in WB you would hope to get $50,000 in rent.  Well if you are paying $850,000 your ROI is pathetic.  You can buy a home for $500,000 and still get your $50,000/year in rental income.  So you see the investor perspective on it.  People buy in wrightsville beach because it is an elite beach and often they are true 2nd homes versus vacation rentals.
Wrightsville Beach Condos and Foreclosures Listings
Here are the more prominent condos in Wrightsville and their active real estate listings for sale: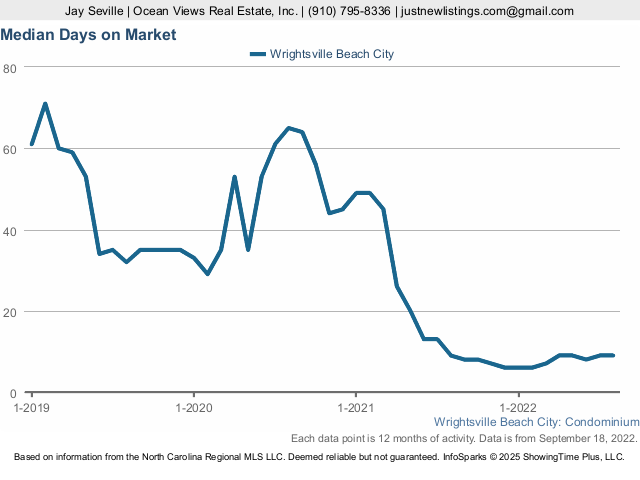 Start of list of properties
Listing Data last updated: 1st June, 2023 02:00 MST